Puran poli recipe  is one of the most popular and traditional sweet dish of Maharashtra, India. This sweet bread make in different ways in different region. Maharashtra people use jaggery in place of sugar for sweetness. Puran means, a sweet stuffed which is made of with lentils, chana dal, sugar, cardimom powder and nutmeg powder. Whereas  poli is a roti or bread.
It is made with filling of lentils (chana dal) and sugar, which is wrapped in a dough made from wheat flour or Maida. It is usually served with kadhi, a sour liquid dish made with curd, in Maharashtra.
Puran poli recipe Ingredients
Chana dal (split Chickpeas lentil) 1 cup
Sugar 1 cup
cardamom powder ½ tablespoon
nutmeg powder ½ tablespoon
wheat flour 1 cup
water
Ghee
Salt to taste
Puran poli recipe Method
First of all, rinse the chana dal and then add it to a pressure cooker with water. Cook it for three to four whistles, until the dal become fully cooked.
Now drain the excess water from the cooked dal and make it smooth. Either you can use a blender or use hand.
After that, put this smooth paste of dal in pan or in kadai and cook it in medium heat.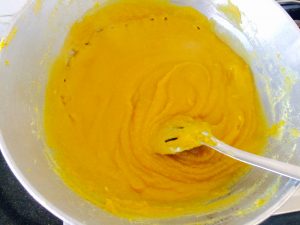 Now add sugar and mix well. Cook it slowly in medium heat.
After five to ten minutes add ghee in it and mix well and make uniform paste
After few minutes add cardamom powder and nutmeg powder and
Now make soft dough with wheat flour, water, salt and one of two tablespoon of ghee. Knead the dough until it become smooth.
For making puran poli, take a small piece of dough and roll out small ball into a thin circle and fill in it a spoonful of paste (puran) and flatten out it in circle. Now heat the griddle in medium heat and place the puran poli and cook each side with ghee.
Serve hot and sweet puran poli with hot kadhi.