GAJAR KA HALWA RECIPE
Gajar ka halwa Recipe  (carrot halwa) is a most delicious popular traditional Indian dessert. It is made with milk, sugar, ghee, cardamom powder and some dry fruits. During winter season in India carrot is largely available in market. The process of making the gajar ka halwa is very simple.
There are different methods to make gajar ka halwa. People use some more ingredients according to their needs or availabilities. Some use fat cream milk in spite of cream. Some uses khoya/mawa or milk powder.
GAJAR KA HALWA RECIPE INGREDIENTS
Gajar (carrot)              1kg
Sugar                            as per taste
Cardamom powder   1 table spoon
Fresh cream
Milk
Cashew nuts
Pistachio
Almonds
raisins
Ghee
METHOD
First of all wash the carrot and peel them. Grate them finely with hand grater. You can also use food processor for grating.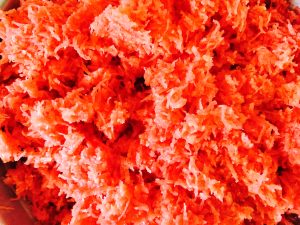 Now take a pan of kadai in cooking gas and add two table spoon of ghee. When it becomes hot put the grated carrot in it. When it becomes hot put the grated carrot in it. After that cooked it until all the water of grated carrot evaporate and become thicken.
When it carrot thicken, at this stage add one large cup milk and mix well.
When the milk mixed well in carrot then adds two to three table spoon fresh cream and mix it.
After some time add sugar as per your taste and mix it.
Now add some Ghee and cook it. Sauté it until the ghee mix well in carrot. Then add cardamom powder in it and mixes it. Cook thickens paste in medium flame.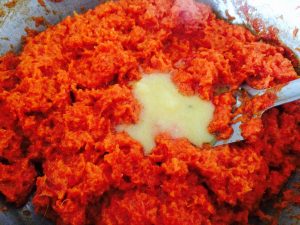 Now take another pan in cooking gas and one or two table spoon ghee and put the small pieces of Cashew nuts, Pistachio and Almonds. Roast the nuts until it turns brown.
Put these roasted nuts in halwa and mix well and cook it in medium flame. Add some raisins in it. It enhances the taste of halwa.
Now, delicious gajar ka halwa is ready to serve. Garnish it with graded coconut powder and roasted nuts.