Mutton masala  is a spicy but delicious dish of the Indian subcontinent. It has cooked from goat meat with some spices available in your kitchen. There are several ways to cook mutton masala recipes. Most states have their version. The Use of spices depends on the geographical condition of India. For example, South Indian family uses tamarind, but North Indians generally avoid it.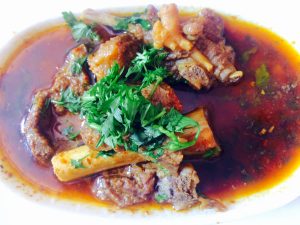 MUTTON MASALA RECIPE INGREDIENTS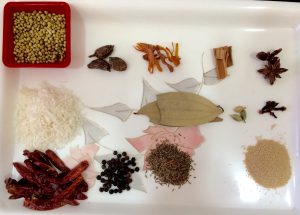 Mutton          1kg
Onion             4 medium size
tomato          one large size
Garlic             three large size
Ginger            1 inch
cumin seeds  one table spoon
caraway seed (shah jeera) one table spoon
Poppy seed  one table spoon
Coriander seed  3 table spoon
Black pepper   one table spoon
Green Cardamom     3 pieces
Cinnamon       one stick
Black Cardamom  3 – 4 piece
Grated coconut  half small bowl

Dry red chili   8 – 10
Turmeric powder  one table spoon
Red chili powder  4 table spoon
Mutton masala  3 table spoon
Byadagi mirch powder  1 table spoon
Dagad phool (black stone flower)  one table spoon
star anise          two
Javitri phool (mace flower)  small piece
bay leaf             three
cloves                five pieces
Salt
Vegetable oil
PREPARATION
Wash the mutton and marinate for an hour with turmeric powder and salt. You can use curd, but it is optional.
Fry mutton with the chopped one onion, one black cardamom, one bay leaf, half a tablespoon of cumin seeds, small size cinnamon sticks, four to five pieces of black pepper, two cloves, and one green cardamom. Sauté the mutton until it becomes tender at least 75 percent. Now shut the flame and keep half-tendered mutton aside.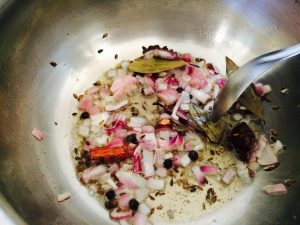 Now chop the three small size of onions into pieces and fry them with one tablespoon of vegetable oil. Sauté it until onions turn brown and keep aside. You can add one tablespoon of rice to it. Rice is optional.
Now take three tablespoons of coriander seeds, one tablespoon of cumin seeds, one tablespoon of caraway seed, one tablespoon of poppy seeds, three black cardamoms, three green cardamoms, one stick cinnamon, mace flower, star anise, ten to twelve dry red chili, bay leaf, three to four cloves, black stone flower, Grated coconut, and Black pepper in a pan and roast it with one tablespoon of vegetable oil.
Now add ginger and garlic to it. Grind it with spices and make a paste. Then add roasted onions to the same paste and again grind. Now keep aside these pastes.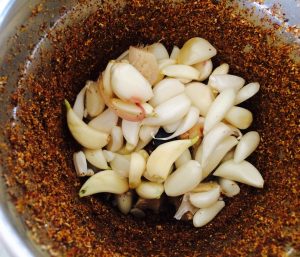 METHOD
Now take eight to ten large tablespoons of vegetable oil in a pan or kadai and start the flame. When the oil becomes hot, pour onion and spices paste into it and cook well.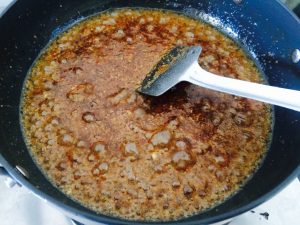 Cook the masala until the oil comes out. After then add half a tablespoon of turmeric powder, four to five tablespoons of red chili powder, one tablespoon of garam masala, and one tablespoon of byadagi mirch powder and stir well. Now cook it on medium flame until oil comes out.
And finally, add semi-cooked mutton in masala and mix well. Cook it until the mutton pieces become tender.
Now add the same water which was used before for cooking mutton and boil it. Mutton masala is ready to serve.