KATORI CHAAT RECIPE WITH SPROUTS
Chaat is one of the most famous snacks in India. Katori chaat recipe  is also famous same as aloo chaat (potato chaat). Katori is a Hindi word which means a small bowl. And chaat is mixture of many ingredients with sour, sweet and salty taste. It is a full of calories and nutrition. So here we make delicious KATORI CHAAT. You can make it in home. It is very simple and tasty snack.

KATORI CHAAT RECIPE WITH SPROUTSINGREDIENTS
Maida                        one large bowl
Sprouts                     moth beans (tiny legumes)
Oil                              for frying
Onion                        Two large
Green Chili               four to five
Curd                           one cup
Tomatoes                 Two large
Tamarind                 for chutney
Coriander Leaves   for chutney
Sev                            zero size
Jaggery                    one large piece
Turmeric powder  
Red chili powder
mint leaves
Salt   
PREPARATION FOR KATORI
First of all take one bowl Maida (all purpose flour) in a plate for making dough. Then add cumin seed, two table spoon vegetable oil and salt for taste and knead it and make dough.
Now take some dough and flattered it. After that, take a katori (small bowl) and put it in center of flattened dough and stick it in katori with slowly. But before it, grease the oil in katori.
Now deep fry the katori until it becomes crispy and brown. When flattened dough will become deep fried it will automatically separated from katori. Now take out katori from frying pan.

PREPARATION OF TAMARIND CHUTNEY
Soak the 100 gram tamarind in water for one hour. After that make a pulp of it and separate the seeds from tamarind. Now take a glass of water in pan and boil the pulp of tamarind. When it comes in boiling stage add jaggery pieces,  one tablespoon of red chili powder, half tablespoon of cumin powder and salt for taste. Now cook the mixture on medium heat. Stirring it constantly until the jaggery dissolves and the mixture become thickens.
PREPARATION OF GREEN CHUTNEY
Take green coriander leaves in mixture jar. Now add four to five green chili, eight to ten garlic pieces, half inch ginger, some mint leaves, one tablespoon of cumin seed, salt to taste and half table spoon sugar. Add half cup of water and grind it well. Green chutney becomes ready.
PREPARATION OF SPROUTS
Take one large bowl moth beans (tiny legumes) and soak in water for 24 hour. When it becomes sprouts strain water. Now boil the sprouted moth beans with turmeric powder. When the sprouts cook well, take off it from gas and let it cool.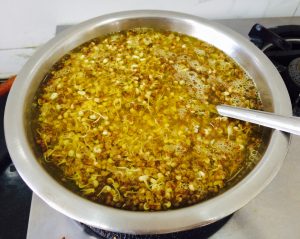 Now take vegetable oil in frying pan. After it becomes hot, add cumin and mustard seed in it and sauté. After that add one large onion and fry it well until it becomes translucent. Now add green chili, curry leaves, half table spoon turmeric powder and red chili powder. Now add salt for taste.
PREPARATION OF KATORI CHAAT
Take a fried katori, which was made from maida dough, in a plate.
Now put cooked sprouts in it.
Then put some finely chopped onions and tomatoes.
Now garnish it from zero size sev
Then add some curd, tamarind chutney, green leaves chutney according to taste.
And at the end serve Katori chaat recip.